Princess Diana's Earrings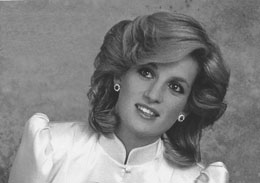 With her impeccable sense of style and grace, Diana, Princess of Wales often wore her engagement ring with her set of matched sterling silver earrings. At the request of our customers, Princess Ring has issued a special, strictly limited edition reproduction of these Princess Diana earrings. These earrings are a precise reproduction of the originals and are a perfect match for your Princess Diana Engagement Ring or Princess Diana Engagement Ring Miniature Edition.
Hand made and hand set all in the U.S.A.!
Like the Princess Diana Engagement Ring, each earring is made from solid sterling silver (approximately 7 grams per pair or over one-fourth ounce total weight), and each earring is approximately 5/8" x 11/16" (14 x 15 mm). Each earring has a sparkling 6-carat Austrian Swarovski deep-blue crystal sapphire, surrounded by 8 flawless cubic zirconia diamonds (about 3 carats total weight). Each pair of Princess Diana Earrings also comes with a numbered Certificate of Authenticity, and a handsome jewelry box. Like the originals, the Princess Diana Earrings are for pierced ears, however we have earrings with clips available for just $5. more.
In honor of Princess Diana's charitable work, a portion of all proceeds will be donated to the international fight against land mines, the cause Diana took up in the last year of her life.