Princess Ring is the official supplier to the worldwide roving Diana - a celebration museum exhibits, including in Ft. Lauderdale, Florida; St. Petersburg, Florida; Houston, Texas; Dayton, Ohio, Cleveland, Ohio; Sydney, Australia.
Ring is gorgeous and more beautiful than I expected. I wear it all the time. Have received many compliments on it. Thank you so much. Diana was such a beautiful lady inside and out. I adored her and this ring certainly does her justice. My boyfriend Dale found your site for me as I am visiting here from Kingman, Az. I just had to have it. Looks like a very very expensive ring. Once again thanks for people like you who do Diana proud! Minnetta Brunner
Received the Princess Diana doll today in good order and she is beautiful. I appreciate the prompt delivery.

Thanks.

Shirley
You have a beautiful website, do you know that?
Judy Pruit, Elk City, OK
What can I say............Stunning! Magnifiscent! Simply lovely! Breathtaking! These "jewels" will be the "jewels" of my display! I have no idea how you guys can afford to, nor should be offering these most equisite replica's at the prices you do. But I'm glad I got mine before you guys "wise up" to the fact that these pieces are worth way more than you're offering them at. Unfortunately, these pieces may end up costing me about $20k! Let me explain. When my wife saw them, she started crying. Firstly, because she truly adored and Idolized Diana. Then 2ndly because she can't seem to understand why I would be willing to outfit my display with these lovely jewels, but not her! She went on and on about how "cheap looking" her engagement ring was compared to the one I just got from you guys! I told her "but honey, the engagement ring I got you is worth $6,000, this piece of jewellery was only 60 bucks! She says, I don't care, these are lovely. If you love me after 10 years of marriage, then Prove it! I say how? She says "get me one". I say, no problem baby, I'll call RoyalRings right now! She says uh uh! "No QZ for me baby", You know what I love! So, I guess the kids college fund will have to wait! Thanks again for your great service and even greater product! Mike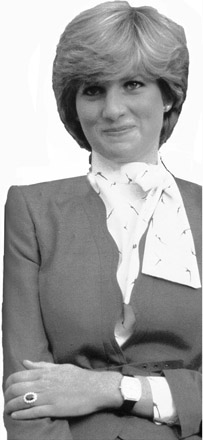 Thank you so much!!! I got my ring today and it's beautiful!!
Lesette
My ring has arrived today. WOW, it is big and I am delighted. -Sally Hoult, United Kingdom
I have been wearing the gorgeous Princess Diana's necklace & earrings for awhile now. I have received many wonderful compliments from everyone! Thank- you very much for the beautiful jewelry collection ! Princess Diana was a beautiful person and is missed dearly. Thanks again! A very happy customer!
Anne Aiello
I just wanted to let you know that my cousin in Mesa, Arizona just received her Princess Diana Ring and is wearing it. She is so happy with the beauty of the ring and the quality of its reproduction. You have won her over as a new customer!

Well I just wanted to let you know how much we loved your ring.
Thank you so much!
Maggie Ronje-De La Garza
Just wanted to let you know that I received the choker on Saturday, and it is beautiful, and was perfect for the wedding, so thank you so much
Donna Pettigrew
I received my Princess necklace and it is even more beautiful than I thought it would be. Thank you very much for your kindness and help.

Thank You
Gail Tough
I received my order today. They are beautiful !

Lillian Wilson

I received my ring today, and it is more beautiful than I imagined it would be. I love it so much, in fact, that I would like you to send me another in a size 7, just in case anything happens to this first one.
Thank you, Desa Corridori
I received my princess ring today and it is absolutely stunning and breathtaking. I didn`t realize it ever could be that beautiful..... I,ve been dreaming of having a ring like this since being a little girl hearing and seeing Diana for the first time. It is a childhood dream come true.....


THANK YOU SO MUCH!!!!!!

Sincerely yours,
ANNE WILLUMSTAD
Oslo, NORWAY.
Hi!
received the necklace - it is lovely!

Thanks & Happy Holidays!
-Elizabeth H.
I just wanted to say that I received my ring the other day and it is more beautiful than I ever expected. The quality and craftsmanship is exquisite!! It reminds me of Diana every time that I wear it. She was such a beautiful and caring person and this world has lost a truly wonderful person.

Keep up the great work and I can't wait until I order another piece from your collection.

Thank You again

Donna Jaeger !
Hello There-
I just wanted to thank you so much for creating such a
beautiful recreation of Princess Diana's engagement ring...Little
did I know that I was going to receive such a beautiful looking
ring......I am so proud of it, and I will order
some other pieces of jewelry from this site..........Count
another "satisfied" customer on your list!!!
Thank You once again,
Nicole
Ottawa, Ontario, Canada
I can't thank you enough for the incredibly beautiful Princess Diana ring! It arrived on my birthday; which was perfect. My Mom had seen the original on a trip to England and said it looks exactly like the same ring.I have been flashing my hand around just like a young girl with her first engagement ring. (This is pretty funny since I've been married 31 years) Thank you again! Lynne Drake
Princess Ring,
Just this afternoon around 2:30 I went to my mailbox, only to find what
I did not expect so soon!!!!! What a most pleasant surprise!!!! The 2
pieces you sent are in absolute perfection and beautiful beyond my
expectations!!!!! A million "thank you's" for all of your most impeccable
and rewarding customer service. You went way beyond and above the call of duty for this customer. For that I shall never forget you.
May you and your endeavors with your company have a most lovely future for you have more than earned that reward. The way you have honoredPrincess Diana's memory is most exquisite and divine. A true heartfelt "thank you", again.
Most Faithfully,
Kathleen A. Uthe
Thanks for the outstanding service. The photos don't do your stuff justice. I really appreciate it. Mark
Hiya,
I just opened it and it is an absolute cracker.Trust me, I paid £1500 back in 83 and yours far outshines real diamonds and the blue/green sapphire that was in that ring. I keep looking at it.
I.m in love, who needs a bloke when you have jewellery.
You guys are first class and so is your jewellery and you go that extra mile to keep your customers happy. You have got me as one for life. Thanks a million guys.
Cheers Pam, your biggest fan
Hi,
Just to say I received the choker today. It is really lovely - and fits a treat!

Many thanks --- Christmas greeting from me and all our family
regards
Sandy Ralph